Sakura Asagi
Dread Knight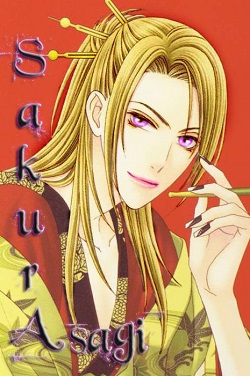 Posts

: 345


Join date

: 2012-08-24


Location

: Unknown


Job/hobbies

: Ninja Assassin


Subject: Re: Assasination Mission Wed Jul 02, 2014 7:36 pm

---

They made love pretty quick, that was too bad since Sakura still missing his flame's touch a lot… he was yearning for it but then, a bird came with a letter and it was from Sairen. Somehow, Lijuan thought that they need to go there and pick the guys up. But Sakura had another way.. he sighed and gave lijuan a very sharp glare. He was not finish yet with his beloved flame… it had been like forever since they made love to one another and Sakura would not be pleased with just that!

Sakura got off from thorn's back and lijuan as well, he gave command to the dragon to pick the guys up and tell the dragon where to bring them, to the small cabin in the woods which will be their new home. After that, the dragon left and Sakura, had to punish Lijuan for being insensitive. He dragged his lover to their bedroom, huge one, and then, he stripped Lijuan naked. He pushed his lover to the bed and tied him up against the bed frames. Sakura also got naked and he glared at Lijuan.

,' I can see this cold war makes my flame turn cold as well…. Perhaps I should show you how to burn bright?"

Sakura licked his lips and he climbed over lijuan. He licked his lover's chest and molested his nipples and then, he turned around. His rectal was now right before Lijuan's face. Though Sakura made the distance far enough so that his flame could not reach his intimate area with his mouth or tongue. Sakura started sucking lijuan's cock deep and hard, he made his lover climaxed once and then twice, he swallowed it all, and then, he used some of the cum to wet his rectal, he shoved his finger which had lots of semen , right into that hole and he moaned more. His hole was dripping wet and it dirtied lijuans' face as well, Asagi turned around to see his lover's face, all flustered and his cock was all erect. Asagi rubbed his butt against that cock and he felt Lijuan climaxed on him.

,' hmmm…. What was that..? you cum alone? That's just too… bad… I must punish you then… my flame…"

Asagi smirked and he licked the cum off lijuan's face, he made out to lijuan and made his lover drank all that cum. Then, he made his rectal devour Lijuan's cock. He slammed his butt hard and deep on Lijuan. He moaned, squeezing it hard and deep, rotating his hips so that Lijuan's cock would rub every inch of his silky hot rectal. After hours of intense and wild sex, both of them finally satisfied and Sakura was filled with semen, all the way inside. He felt so happy. He kissed Lijuan and lied down next to him as he released his lover.